Spring Activities in the Smoky Mountains Area
To check availability or to reserve your cabin or private lodge now, call one of our friendly reservationists at 800-652-2611 from 8am-10pm EST.
If you want to visit the Smoky Mountains, one of the best times of year to do so is during the spring. As the snow thaws the region comes alive! The air is mildly crisp and the beautiful wildflowers begin to bloom, ready to sprinkle the land in gorgeous white, yellow, and pink hues. Planning a spring break vacation to the Smokies and the surrounding Gatlinburg and Pigeon Forge, Tennessee, areas during this invigorating time is easy, as there are so many spring outdoor activities for you to fill your itinerary with, including: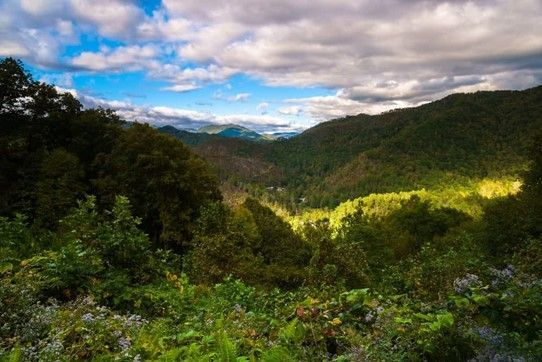 Hiking in Great Smoky Mountains National Park
The Great Smoky Mountains National Park is America's most visited national park, and for good reason: it has something to offer for everyone! From family-friendly hikes to more challenging backpacking trips, the Smokies offer a variety of popular trails to suit every skill level, and the spring scenery is something you'll remember forever.
White Water Rafting
Rafting in the Smokies is fun for the whole family. Whether you want intense, expert-level rapids or something more relaxing to enjoy with the kids, you'll find plenty of options in the region during this time of year.
Adventure Park Ziplines
Spring is the perfect time of year to soar through the hills on ziplines that range from 450 to 2,500 ft. long! You'll be able to take in the incredible natural beauty of the Smoky Mountain while getting your adrenaline rush on zip lining.
Dollywood
Dollywood hosts two awesome festivals during the spring season! From mid-March through early April, the theme park celebrates the Festival of Nations. This special event brings entertainers from all around the world to Dollywood to perform free shows for everyone to enjoy. For more information, check out our complete guide to Dollywood's Festival of Nations.
In late May and early June, vacationers can attend Dollywood's Barbeque & Bluegrass Festival. This fun celebration features award winning BBQ and performances from some of the very best bluegrass bands in the United States. https://www.pigeonforgetnguide.com/events/dollywood-barbeque-and-bluegrass/
Go to a Car Show
Each spring, Pigeon Forge hosts a number of popular car shows that bring hundreds of visitors to the Smoky Mountains. If you own a classic vehicle, you'll have the chance to compete for thousands of dollars in prizes and meet other car enthusiasts. Even if you don't have a hot rod of your own, it's still a lot of fun to attend the shows and admire all of the beautiful cars. In many cases, it's not even necessary to go to a show to see the classic cars, as they usually make appearances on the Parkway and around town. Here are the major spring car shows in the Smokies:
Wildflower Pilgrimage
The spring wildflowers in the Smoky Mountains is truly something to see.
Guided tours are a popular option for those who want to see and learn about the blooming abundance of wildflowers, trees, and wildlife. http://www.wildflowerpilgrimage.org/
Great Smoky Mountain Trout Tournament
This is the largest trout tournament in the Smokies. Over 10,000 trout will be stocked in 20 miles of streams surrounding Gatlinburg, so fishermen of all ages can compete in contests for cash and prizes. https://www.rockytopoutfitter.com/cv
Hands On Gatlinburg
Hands On Gatlinburg offers the opportunity for artists of all ages to take part in painting, jewelry making, woodworking, soap-making, and other art classes under the guidance of local artists from over 15 studios throughout the Great Smoky Arts & Crafts community.
Oak Haven Resort & Spa
If you want to experience the perfect destination in the Smokies during the spring, there is no better place to stay during your visit than Oak Haven Resort & Spa. We are a gated, luxury cabin resort that is nestled in the foothills of the Smoky Mountains and surrounded by the Gatlinburg and Pigeon Forge, TN, communities. We have cabin rentals with one to seven bedrooms available, making our resort ideal for solo travelers, couples, families, and large groups alike! Our accommodations are comfortable and cozy, with full kitchens, stone fireplaces, private porches, and everything you need to feel at home.
Plus, we offer plenty of onsite amenities that spring vacation goers can enjoy, including pools, picnic areas and pavilions, walking trails, a playground and basketball court, and even an award-winning spa. If you would like to learn more about Oak Haven Resort & Spa and the many onsite amenities and area activities to enjoy while you're here, contact us today. We would love to get your dream spring vacation to the Smoky Mountains started!