Cabin Rentals for Couples in Sevierville, Tennessee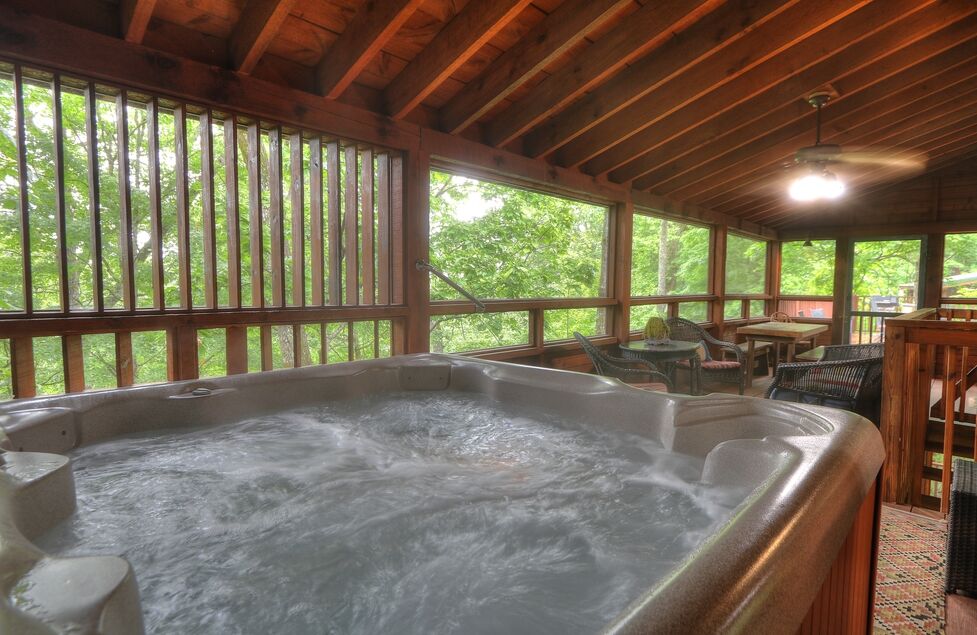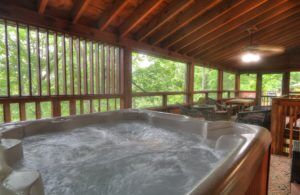 If you and your partner are looking for romantic cabin getaways where you can escape the everyday grind and immerse yourself in picturesque natural beauty, there's no better place to go than Oak Haven Resort & Spa. Located near Gatlinburg and Pigeon Forge, Tennessee, in the foothills of the Smoky Mountains, our resort creates an opportunity for couples to retreat, reconnect, and relax in a way that few other places can.
Seclusion & Serenity
Our gated, 300-acre resort is a wonderland for those who are looking for romantic cabin getaways or honeymoon cabins. Not only will you enjoy the jaw-dropping views of pristine woods and land all around you, but your cabin will have everything you need for a cozy and intimate stay that you and your partner will never want to end. We have immaculate one-bedroom cabins available that each feature a hot tub, fireplace, and porch where you two can enjoy your morning cup of coffee while looking out onto your own private wooded area.
When you're really ready to indulge yourself, you can visit our on-site spa, where you and your partner can choose from a wide array of services and couples' packages. Melt into a relaxing massage, rejuvenate with a sugar scrub, and pamper yourselves with our "Ice Cream" pedicures – all side by side for an experience that'll leave you both refreshed and serene.
Furthermore, when you're ready to explore the Gatlinburg and Pigeon Forge area, you'll find that there is plenty to do. From shopping and fine dining to golf and outdoor adventures in the Great Smoky Mountains National Park, there's something to do for whatever mood you're both in.
Romantic Amenities & Features
This romantic retreat provides the perfect setting for your honeymoon, anniversary, or any other special occasion. Featuring an outdoor pool with breathtaking views of the Great Smoky Mountains National Park, Oak Haven Resort & Spa offers luxury accommodations that will please everyone, even the most discriminating traveler.
Our rental cabins for couples also provide convenient access to outlet shops, golfing, fishing and boating spots, fine dining, and all the attractions that Sevierville, Pigeon Forge, and Gatlinburg have to offer.
There is also a full bath and a loft area with a daybed overlooking scenic mountain ranges. The living room design has a rustic charm you won't find anywhere else, plus plenty of space to relax after exploring all day long!
Step outside of your beautiful cabin and take in the scenic wooded view, and enjoy a wide range of amenities. We offer guests free Wi-Fi access, private hot tubs for two, a gas grill on the deck to make your favorite barbecue dinner, and a campfire where you can fire up some s'mores just a few feet from our cabins. You and your partner are sure to be delighted by the canvas of the starry night!
What Are Some Popular Activities for Couples in the Smoky Mountains?
Oak Haven Resort & Spa at the base of the Smoky Mountains is an ideal setting for couples in search of beauty, romance and quiet. The views are spectacular, as are the available activities. Bring your favorite beverage, excellent cuisine and get settled in the hot tub at your cabin rental. There are local establishments nearby where you can venture into town and explore the area. One must-visit attraction is the Forbidden Caverns, which promises an incredible memorable and visual experience.
Live for Today at Oak Haven Resort & Spa
Forget about waiting for a special occasion to book a cabin in Sevierville. Making wonderful memories together in a beautiful environment with your partner is enough reason to have a romantic adventure for two. Call Oak Haven Resort & Spa, and we'll get you started on preparing for your long-overdue vacation.
Contact Us Today
Contact Oak Haven Resort & Spa today to begin planning your vacation or honeymoon in the Gatlinburg and Pigeon Forge, TN, area. We will help you book the ideal romantic cabin getaway for you and your partner and tell you all about the many activities you two can engage in for your dream stay.