Tips for Planning a Getaway To Pigeon Forge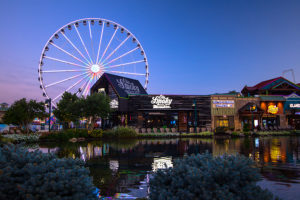 Pigeon Forge, Tennessee, is a mountain resort city that is situated about five miles north of the Great Smoky Mountains National Park. About 11 million vacationers visit the city every year for its breathtaking scenery, wholesome and fun attractions, and distinctly southern hospitality. If you are planning a Smoky Mountains Pigeon Forge getaway, there are several ways that you can make your trip unforgettable:
Consider Your Group
Are you planning a kid-friendly family vacation? Or perhaps you're getting away with a romantic partner? Thankfully, at Pigeon Forge, there is something for everyone. Kids love The Island in Pigeon Forge, where they can enjoy the ropes course, bumper cars, and the Great Smoky Mountain Wheel (which offers stunning views!). Couples can have a romantic dinner, or go horseback riding in the Smoky Mountains. Whether you're visiting the city solo, with your significant other, or a group, you're sure to find plenty of fun activities to fill the itinerary.
Plan According To Season
Pigeon Forge has fairly mild weather, making it an ideal destination year-round. However, certain seasons offer their own uniquely special things to see and do. For instance, in the winter, the entire Smoky Mountains area becomes a magical wonderland, where you can go skiing at nearby Ober Gatlinburg and witness millions of holiday lights. Speaking of the holidays, you'll love Santa's Haus at The Incredible Christmas Place: The South's largest Christmas store where you'll find Christmas gifts, trees, novelty and traditional lights, hundreds of personalized ornaments, and so much more. In the fall you can take in the stunning fall foliage and in the warmer months you can swim in waterfall pools and go whitewater rafting in the Smokies.
There are also numerous seasonal festivals to enjoy, such as Winterfest and Dollywood's Fall Festival. During the spring, you can enjoy the new Flower & Food Festival at Dollywood (May 8–June 14), where you'll bear witness to approximately half a million plants and flowers throughout the park, larger-than life topiaries, and even a canopy of hundreds of multi-colored umbrellas in the new Umbrella Sky display. Whatever time of year you visit Pigeon Forge, be sure to check out the local event schedule so you don't miss out on any of these wondrous occasions!
Don't Miss the Main Attractions
Of course, no matter what you do, there are certain attractions in the Pigeon Forge area that you won't want to miss. These include the Great Smoky Mountains National Park, where you can admire nature's remarkable beauty and engage in a number of adrenaline-inducing excursions. And no trip to Pigeon Forge would be complete without a visit to Dollywood, which offers rides, live music, and seasonal events and festivals that highlight the unique southern charm of Pigeon Forge. Some additional attractions include:
Oak Haven Resort & Spa
If you want to plan the best Pigeon Forge getaway, there's no better place to stay than at Oak Haven Resort & Spa. We are a luxury cabin resort that offers spacious private lodges and cabins and flexible accommodations for everyone in your group. Our cabins range from 600 square feet to over 5,000, including one-bedroom cabins that can sleep up to four, two-bedroom cabins that sleep eight, five-bedroom cabins that sleep 20, and seven-bedroom cabins that sleep up to 26!
In addition to having a range of comfortable cabin accommodations, we also have plenty of onsite activities, and even an award-winning day spa. Contact us today to book your cabin rentals and get your dream vacation to Pigeon Forge, TN, rolling!